So my son had his first birthday, his first cake, and against my "healthy" instincts I gave him sugar filled cake.  You may recall my previous conundrum about giving him cake, well I caved.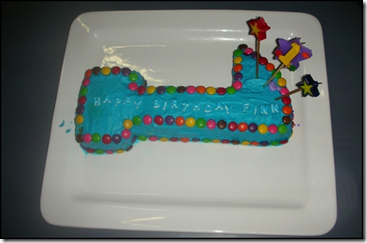 Then I thought I'd get creative. Instead of my visions of the "number 1" cake, last night I envisioned Elmo. That damn loveable creature from sesame street has been playing in my house non stop thanks to media center.  It's bittersweet, my love hate (more hate) relationship with Elmo. I mean, my son is mesmerized by that stupid loveable creature that always refers to himself in the third person, and honestly it entertains him when I need to get things done, so hence the love part of the relationship.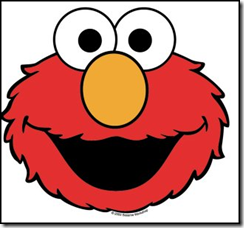 I swear only a person who watches as much sesame street as I do could hate Elmo. I mean the thing is wonderful if you only hear him for a few minutes, but hour after hour of the same episode (the one where Telly helps Gordon practice golf) you get annoyed of the laughing and the referring to himself in third person. Even as I write this I sing that Elmo's world song.
And yes, I bought everything Elmo. The plates, the napkins the Balloon, the cups, the hats, the noise makers. everything. I was standing in line and 190$ later (that included a huge box of diapers) some woman asked me when the party was, and then commented, "they didn't have this at the dollar store?"
OF course they probably had it at the dollar store, and Zellers took me for a lot of money that day, but I wanted to be in and out and not stand in line with a thousand people at the dollar store, but still. it hurts.
So you see the above picture of what Elmo looks like. And this is my version of Elmo: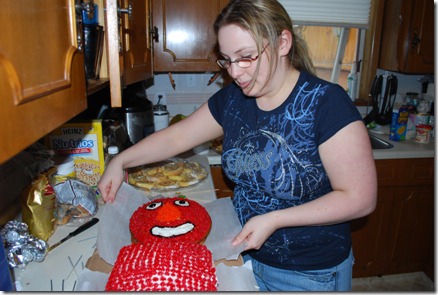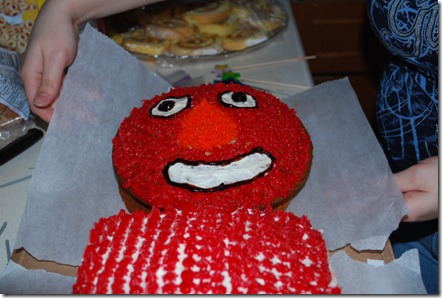 My niece asked me where his arms and legs were, i told her I wasn't that ambitious. My nephew said that there was an evil Elmo in the kitchen-and refused to eat any of the head, but ate the body  lol And you all can recall that I've never said I was Martha Stewart.
All in all, the cake was pretty good, and my son loved it and had three pieces: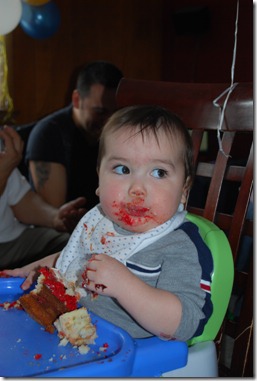 I guess that's all that matters right? But there is something creepy about cutting up and eating something that's your favourite thing. Elmo didn't look the same after my son was finished with him.
As for our family and friends, everyone was very generous and we are so lucky to have them in our lives. Thank you from the bottom of our hearts for sharing his birthday with us!