Now that we have a son, I thought it would be nice if he "made" something for his daddy on his birthday.  I had a wonderful Idea while i was at Walmart in the baby section (of all places, don't even get me started on how much I hate Walmart.)
I saw a baby hand imprinting kit that is a photo frame, and thought.. Perfect! Yes, it would have been if I wasn't the worlds worst crafty person.  I mean my MIL is fantastic, she makes beautiful hand made cards, handmade gifts for all her kids each year and is an all around  very talented craftswoman. I also have friends who scrapbook and knit or something to that effect, but i'd rather write a blog post, or update a website, or play video games, or cook (ok I'd rather do anything) to get out of doing something crafty.
Its not that I don't like to do crafty things. I'm just not that organized to make it go really well. I seem to always forget to read some instruction and let's face it I'm not a perfectionist so what I make usually looks like a 5 year old did it.
Now this is what the hand imprint is supposed to look like: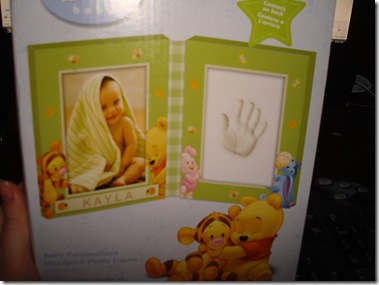 And this is what it does look like: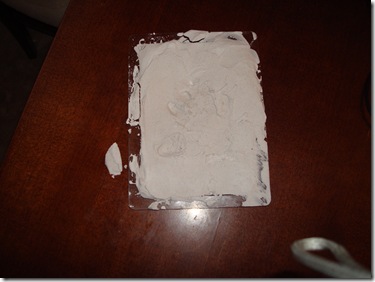 I also wish I wrapped presents like this: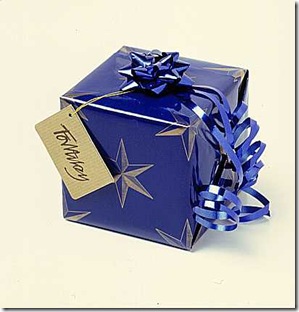 But they always come out like this: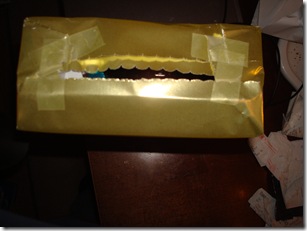 Why? Because I simply do not care to try to make it look nice. It's  just not a priority for me. I envy those who take pride our of their craftiness, and find joy in doing something pretty.  For me, it's a burden. I'm also not one of those who will go have someone wrap stuff for me, I do it all last minute. So really I only have myself to blame.  My husband however wraps like this: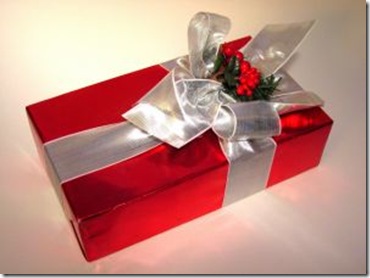 But it takes an hour for him to wrap one present.
I would also not recommend doing the imprint thing on your own, I had plaster everywhere. I followed instructions had warm soapy water to wash his hand off afterwards, I put petroleum jelly on his hand before etc.  But we managed to get it all over his clothes, on the floor, on me (and I mean in my hair, on my face, and on the table. It was a freaking mess. Not only was it a mess, he kept digging his fingers in the plaster and messing up the "perfect" hand I was hell bent on capturing.
Exhibit A: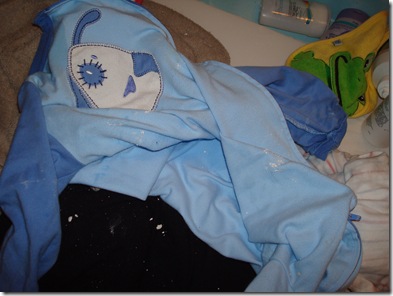 Oh well. Maybe i'll attempt it again, with his foot. Or when he's sleeping. But next time i'll get help from someone!