While some people have been planning this day for months now, I find myself procrastinating. Do I not want him to be one? No.. But I'm just not keen on throwing a huge bash for a one year old.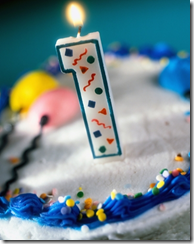 Yes i'm the granola mother who makes all her food for her baby–although I think that will be the benefit of being the first child, I will probably not do that for number two.  He's never had vaccinations (my family is still not happy about that). I am still breastfeeding, and have just now introduced formula because I'm not producing enough milk to feed him at night.  I plan on giving him goats milk and not cows milk. He's never had meat (we are partly vegetarians) and he's huge! Yes I'm granola.  But I think that's my husbands fault. 
I would have never gone to this much "trouble" to feed my baby if he hadn't  had a role in it. He was raised on homemade food (thanks to my MIL I have big shoes to fill), goats milk, no meat, no vaccinations and constant attention. There were many a times where I wanted to throw in the towel!  Now part of me wants to make a cake that's sugar free, how fun is that? It's not, and no one will want to eat my cake..  So I'm left with two choices. Let go of my irrational thoughts about sugar or just let him have the damn cake.

I'm sure my family thinks I'm crazy. I made my own oatmeal, I never used the infant cereals (yes I know all about depleting iron stores ), my husband went with me to the store before we started solids and I asked his opinion about which cereal I should buy-first mistake.. So he looked at the choices (Nestle or Heinz) and said this, "Humm, cereal from the ketchup company or the chocolate shake company," and then I just couldn't do it-he'd ruined it for me.  My son's doctor didn't even know why I wanted to make baby food, when it was already prepared in the stores lol.  I swaddled until he was 10 months, despite all of our family thinking we were crazy and despite all of my craziness, he's a well adjusted happy baby who on top of it all is healthy.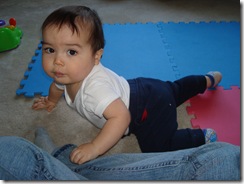 Now i'm sure some of you are thinking that because this is my first i'm paranoid. And I can assure you i'm not. I don't freak out when the soother drops, i'm not a germ-a-phobe, and I don't think that people who raise their children differently then me are horrible parents. I just do what works for me, i'm not here to judge anyone!
There are some sugar free cake recipes out there that I may try, and maybe I'll just make him a little cake and everyone else can have the sugar filled delicious cake-or maybe i'll just give in and give him regular cake.  I mean I survived on Kraft Dinner, fish sticks, hot dogs and Kool-aid. 
But I digress, I really should start planning this "party" for everyone, *sigh* how I hate planning parties lol