If there is anything I've learnt in the past 4 and a half months is that no matter how many times people tell you .. you need X, your baby may hate X. Or how many people say, don't waste your time on buying X, my son really got the use out of X. So here is what I consider my best, the worst, and the swing vote purchases for the first three months.
The Useful Products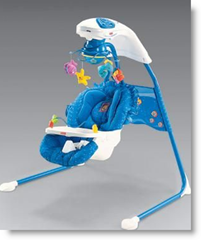 1)The Swing
—Yes it needs a pronoun—We were fortunate to have been given a Fisher Price Ocean Wonder's swing on loan from a friend of mine. I swear it saved our sanity for these first three months. Especially if you are into the Happiest baby method's you are going to want a swing to help sooth your baby. My baby was one of those who needed constant motion to keep him content, lord knows what I did while I was pregnant to make him that way–it certainly wasn't aerobics! **Note, try to get one that plugs in or you'll go through a HUGE amount of D batteries! Keep in mind, a swing will not calm a screaming baby, you must calm them down first before you place them in the swing. Always make sure you follow the guide lines for the swing including the weight restrictions, and if they start leaning forward trying to grab the toys they are too mature for the swing.

2)Bouncy chair
—We have the Sooth N Play Fisher price one, and I have to say it was a love hate relationship. Some nights and days I was so happy I had this bouncy chair, and other's my son did not care for it. But I found I got more use out of it then not so it is a favourite of mine. The vibration he could have done without I'm sure, and now that he's 18 lbs it sinks so low to the ground I don't dare put him in it.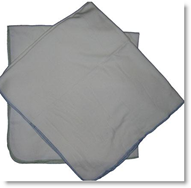 3)Swaddle blanket
We  had a few store bought ones given to us, and a few made from my mother in law. I have to say that the ones my MIL (mother in law) made were the best ones for us. If you haven't had a chance to see my blog on the Happiest baby on the block, you'll see the swaddle and just how big it is. But to make your own you are going to need 42 square inches of fabric (stretchy thin cotton) and either surge the ends or put ribbing on them. Not only do you need the blanket but you need the small piece of fabric I use in my "real tech mom" swaddle. It saved my husband and I from jumping off a bridge with how little my "little man" slept!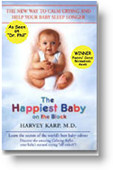 4)The Happiest Baby on the Block
There is a book, but unless you have the time to read it, the DVD does a fantastic job of outlining what to do, and the best thing is that when you are sleep deprived it shows you what to do. Please click here for an indepth review of this product. If you are considering purchasing this book before your baby makes it's arrival, it is worth the read. It really goes indepth into the reasons behind the magic!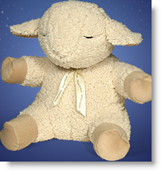 5)White noise maker
We used a product called a sleep sheep, but the happiest baby comes with a white noise cd—the cd was great because it's more intense for those babies who need the sound of a hair dryer to fall asleep. The white noise helps them adjust to the silence that is now their world. While in the womb it is louder then a vacuum, so imagine being born into silence after 9 months of sound.. pretty scary and hard to adjust to! Now that my son is over 4 months he still likes the vacuum, but not to fall asleep.. now he's just amazed by it!
6)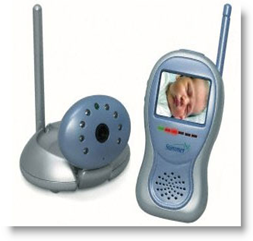 Video monitor
What can I say about these. I obsessed about which one to buy. I was considering the Angel care one, because I know I can be paranoid if I want to be. But after reading the reviews on the angel care (some mom's say it drove them crazy because sometimes it goes off without need—baby is still breathing but has moved off the pad or you forget to turn it off and pick baby up) I think I would lose my mind. So instead I chose to spy on my baby LOL
I chose a video monitor because I can look at him without having to enter his room. We chose the summer version and while it's $250 in Canada, I got it online from EBay for $104 plus $20 shipping.. great deal in my books. I just love looking at him when he sleeps, they all look like angels! The only thing is it only picks up baby pitches, so if I was in his room talking, my husband could not hear me on the monitor—blessing in disguise?—or awesome, I've yet to decide. I have also read how you can "tap"into these video feeds from outside the home (this is a con), but i'm not sure how that works. Either way I'm glad I have it and wouldn't change it for the world.
7) Medela pump
(manual and mini electric pump) I'm reviewing this one because this is the one I purchased. There are also establishments that rent hospital grade unit's for around 60$ a month with a deposit and you have to spend 50$ to buy the attachments that you keep. Now because my baby takes a bottle—thank god, it has allowed me to go out with my hubby or friends without worrying that my baby won't eat. BUT a recent incident has lead me to believe this pump sucks. First of all I was not paying attention one morning one hand pumping at 5 a.m. and it overflowed, since then the suction has been little to non existent, I found out they do not service their pumps, you need to buy a new one. Well after buying a mini electric pump and manual one (all in one-$164) i'm not willing to spend more money on a new one. So while I loved to freedom, id question buying one knowing that you can't fix them with the company. BUT in terms of the effectiveness this pump is one of the best. I have heard great things about the swing pump should you want to spend the cash!** I've since fixed my pump thanks for Kelly's suggestions (at bottom of this post)
8) Gerber breastmilk storage bags
Again this only applies if you are breast feeding these bags are fantastic. They are thicker—if you are freezing your milk (these rock), you are less likely to have freezer burnt milk. Now I have heard great things about the medela milk storage bags but have not used them and cannot advocate towards them. These bags have a Ziploc seal, with a date spot to write on.
9) Lansinoh Nursing pads
—again only great if you are breastfeeding, but these things rock.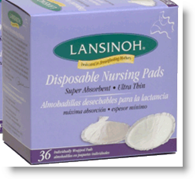 They are thin and absorbent. I wouldn't recommend any other brands besides the medela ones. I had a hard time finding a lot of medela products so the Lansinoh ones worked well for me. They also aren't crazy expensive–if you go to walmart. They have a powder in them that turns the milk into a gel, instead of soaking your boob it absorbs the moisture away from you boobs—which is great because the last thing you want to worry about is thrush, or leaking pads.
Oh and another really great product that I would have died without during the beginning of breastfeeding was my Lansinoh nipple cream. Your poor nipples have never felt pain like this, I can assure you. The cream saved my life and my sanity. It's a bonus that you do not have to wash it off. Again Medela has nipple cream too that is of the same caliber!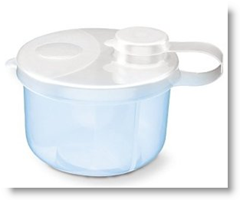 10) Formula storage containers
—I'm talking about the ones that divvy up the formula for each feeding in separate compartment. While I heard they are quite pricey, they are apparently worth it! Seriously ladies if you are formula feeding, these things are a must have for you on the go!
11)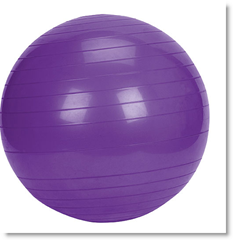 The Exercise ball!
So for all of you mom's who bought this birthing ball–how many of you actually used it all that much during your pregnancy or birth?  Well it came in handy after baby came home that's for sure. If you baby likes to bounce but you're too tired to bounce baby because let's face it, we don't all have arms like Arnold Schwarzenegger! This thing allows you to bounce baby while sitting down. (Hold baby close to you, in cradle position or up against your shoulder and bounce away—Thanks Daniela forgot about this one.. how soon we forget)
Top money wasters
1)Most Toys
Generally they're not interested in them, my son was more interested in me then the toys. Plus stuff that has too many bells and whistles is really too much stimulation for most babies. I'm sure they'll come in handy for the upcoming stages!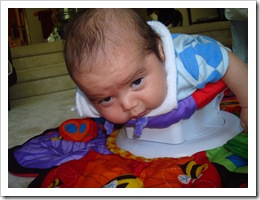 2) Play mat's
Again my son was not interested in laying down, he constantly wanted to sit up. You just never know with your child as they are all individuals. Namely the 50$ Lamaze tummy toy (a purchase made by my husband), my son hates this thing… well more so doesn't know what to do with it. See how impressed he is?
2)Baby Bath Tubs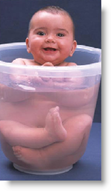 The only bath tub that I've heard positive things about is this Tummy Tub. For us we had The Safety First bath tub that my son hated–it was not for lack of trying.. he just did not like bath time! I ended up transitioning him to our big tub as soon as possible. It took me at least a month to feel comfortable to bathe him in our big bath tub.  While I tried as much as I could to keep him comfortable he just hated the small tub. We maybe got a little bit of use out of it the first few weeks when we were scared to hold a slippery wet baby, but after that he just screamed when we put him in it. Note: when bathing your baby, make the water warm. The hospitals scare us into making the water luke warm–to cold. And by all means I'm not saying burn your baby, but making the water nice and warm (like you would enjoy) is probably your best bet!
3)Travel system (car seat and stroller)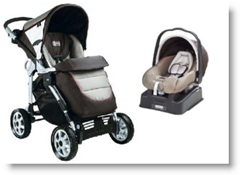 This was one of my favourite buys at first, however once my son decided he needed to see what was going on around him, he was NOT content to sit in the car seat at all.  He was great in it while he was still small he didn't do much but sleep (0-2 months). But now he won't even go in the stroller/car seat combo, and can't stand the car seat. I certainly don't regret buying a good brand (Peg Perego) I'm waiting to see what happens when he actually can sit up in the stroller. For now we're using a baby carrier that he likes much more, although he hated that for the first 3 months as well, hence his nick name: Mr. Fussypants.
4)New born sizes of clothes
Bottom line: they grow out of them so quickly, I think we used them to bring him home and for the first few days, but mostly you alternate a few outfits at first, because you're so darn tired, you can't possibly find what you want when you want it and then bother to co-ordinate it or put it away (after it's been washed). Simplify those first few weeks!
5)Baby Towels
Sure they're cute, but really… just use bigger ones, most of the baby towels are of poor quality and fell apart in the wash.
6)Crib Bedding
It's for show (as I was told not to put anything but baby and a crib sheet in bed), and most places want at least $150 + for a set, which is ridiculous when you think that you can't actually use more then the sheet for the first year or so.
7) Bottle warmer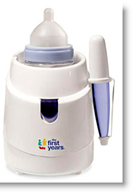 Again a purchase made by my husband. We found it burnt the milk more often then heated it properly. He was just rewarming breastmilk so maybe that was the problem but in my opinion, warm tap water works better. Save your $40.
8)Bravado nursing bra
Ok, so I know these are supposed to be the cream of the crop for nursing bra's and maybe the one my sister lent me was not one that was meant for me, but it was not a cheap one ($75.00) and let me tell you, I've never hung so low in my life.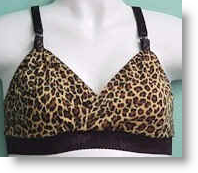 While it had no underwire (which is not recommended when your milk is coming in–because it increases the risk of plugged ducts) I desperately needed something more supportive. They do have other bra's on their website, but I just was not willing to spend that kind of cash hoping it would work out.
Mentionable's:
The following can be construed either way (positive or negative). But the following are some that I find are either a  yay or a nay purchase.
1)Change table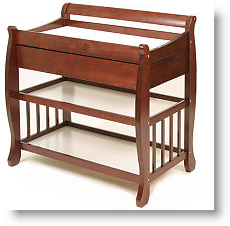 I won't bother to tell you the horror story I had with the storkcraft brand of change table I purchased at walmart over a month and a half before my due date. BUT I love my change table. It allows me to change him and store stuff all at the same time. It's wide enough and long enough that I don't have to worry about him hitting his legs on the sides—Tip: purchase a thick change pad from toys R Us or babies R us, instead of the cheap thing that comes with it.
But some of the change tables out there are not wide enough. Make sure it is as wide as it possibly can be so your baby does not bonk it's legs and arms on sharp edges. Also depending on how many levels your house has, it may not be practical for you to run upstairs every time to change a diaper. Practicality is key!
2)Bibs and Facecloth's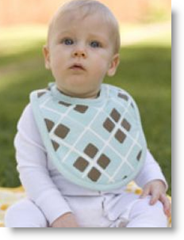 I had milk flying every which way, my poor son tried to keep up but there is only so much one little boy can take. These things saved us countless times, and I think from 0-2 months the facecloth's did the trick, but after that when the drool came in, the bibs—you can never have enough, saved my poor son being totally drenched. When my son starts solids, I'll probably curse certain bibs, but for now they all do the same job, I do like the thicker material ones.
But some women have expressed that these things just added to their laundry list, I think they're a good addition but it depends on your needs, keep in mind formula stains, breastmilk does not!
3)Baby clothes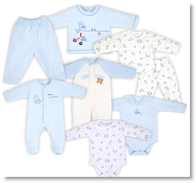 Depending on your family and friends situation, don't buy too much clothing. What drove me nuts the first month was the button up sleepers. I hated those things, with how often you change diapers at 1,2, and 3 a.m. they drove me nuts. Try to buy ones zippers if you can find them. You will receive a lot of clothes from people that you'll struggle to get use out of. Tip: if buying for a new mom, keep in mind the season and age of child you buy for. While it may be summer now, winter is fast approaching and baby will be months bigger then he/she is now. Buy according to season/size.
4)Bumbo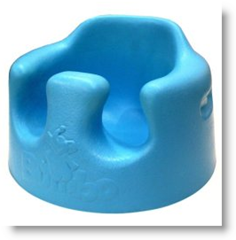 So while it is neat and so cool to see them sit up so early, we didn't get much use out of it for the amount it costs. Thank goodness it was a gift. I mean by the time I realized I could put him in it, maybe 2 months, he wouldn't tolerate it for long and then i'd have to take him out right away. I did get some cute pictures out of it, but now he get's stuck in it and freaks out because it doesn't move. I think it's a neat novelty for an in between stage.
5)Cribs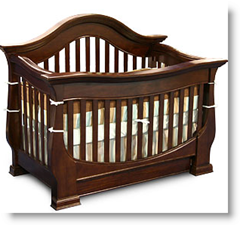 My son slept in his crib as soon as I got the crib mattress (a week after he was born), but some parents have the best intentions of crib sleeping only to have their babes in bed with them. I think it's personal preference, but I've had people tell me it's a waste of money, their child never slept in their crib… well mine does and I'm so happy about that!
6)Co-Sleeper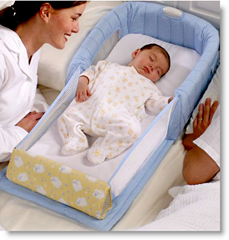 If you plan to have your baby in bed with you, you can buy something called a Co-Sleeper. While the concept is neat, it depends on how big your bed is. If you have anything smaller then a King Size bed, it may take up quite a bit of room on your bed. Not only that, but if your baby is born long and/or large, your babe may grow out of it before you get much use out of it.
The Bottom Line
All the usefulness of these products will depend on your baby. Some of the top ones that worked for us may not work for your baby. Keep in mind that at each stage of the game, the product's usefulness changes, and what you love one month, you may hate another. Try to get a number of things second hand. All of these items can be quite pricey, so if you know friends who've had children see if you can borrow some of these items to test them out. And believe it or not, the good, the bad and the mentionable can be interchangeable, depending on who you talk to.
If you are in doubt, I found that the reviews on Toys R Us's website to be quite useful.
Happy Shopping! Oh and if you are looking to gift some of these items to your expectant friends, please, please, please include a gift receipt!