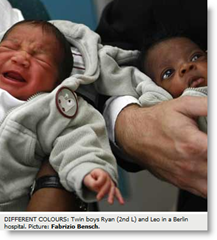 Ok so maybe not. But how cool would it be to have twins that came out varying degree's of colour?
Well on July 11th a German couple gave birth to two baby boys, one white, and one black. The odd's are technically two in a million, isn't that crazy?
Experts say that because mom is darker skinned (from Ghana–West Africa) and Dad is a Blond haired blue eyed German they caused quite a stir at local Sana Hospital in Lichtenberg, Germany.
The Twins' mother, Florence Addo-Gerth said the most important thing was that the babies were healthy… Most likely there were some mixed gene's in the couples backgrounds that decided to show themselves in their beautiful baby boys Leo and Ryan.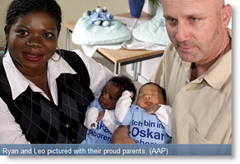 The boys have already shown some different personalities their mom said, "Ryan (the light skinned baby is described as Spirited", while "Leo is laid back.") For all of you who don't know what spirited means–translation… Mr. Fussypants!
Good luck to mom and dad!