In today's market you don't just have to be qualified you have to be better than the other applicants.
The person reviewing your resume may like things that are different from what I'm posting here, so while these are my suggestions they are not set in stone.
These are the first 5 things as to why you're not getting an interview for the job you want.
1) You only have 1 resume
When you are in any type of profession in this market you are most likely applying for different industries that cater to the same type of job you have.  That being said, if you are in IT you know that a help desk operator and a software architect are two totally different things. Just think about this, a help desk operator for a HVAC company and a help desk operator for a crown corporation may have the same duties but what's expected from these employees is radically different.
Small companies depend on the worker bee type of employee who will wear many hats. Large corporations generally have people who all wear different hats and if it's not in their job description they generally don't do it.
So why is this important?
Because you NEED to tailor your resume for the industry and size of company you are applying too. Someone who thrives on creativity and being able to make a difference in the company may not like corporate America. Someone who likes process and structure might not like the small business feel. Small businesses look for different traits then large corporations.
Ask yourself where do you fit in and then ask yourself does your resume reflect that? If not, tailor different resumes to suit what you're applying to.
Lesson: create different resumes to suit what you're applying for.
2) You don't have enough information
Is your resume one page? Then it's too short in my opinion. I look at hundreds of resumes a day. AND while some people say it should fit on one page, after working for 15-20 years it had better not fit on one page.  I'm a big fan of resumes that have summaries at the top to showcase your skills I'm asking for in the advertisement but that does not mean I don't want to know what you did at each company you worked for.
Saying that you were a receptionist at ABC company doesn't tell me if you did A/P, scheduling or answering the phone. Tell me why you suit what I'm looking for and I'm more inclined to phone you in for an interview.
Lesson: Don't be afraid to showcase why you're the person for the job, be specific!
3) You haven't proofed your resume
Ok this should be number one. Spell checking your resume is not enough. You can still spell something correctly but use it in the wrong way. i.e. Two and too, their, there and they're hold different meanings learn the difference between them.
Get someone else to look over your resume. Make sure you're using the right tense consistently talk about your accomplishments in the past tense. If you do use present tense, don't go back and forth in the same job description.
Lesson: Don't be a lazy dumbass, proof your resume!
4) Your picture is on your resume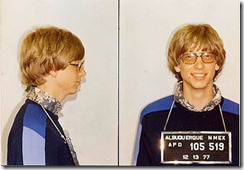 Even Bill Gates should not put his picture on his resume.
I always thought this was self explanatory but apparently not. In North America if you aren't applying for a modelling/stripping or pornography job DO NOT put your picture on your resume. I had an argument with friends of mine 5 years ago saying that you should put your picture on your resume and to be honest, I know that people honestly just laugh at the pictures that accompany resumes.
Lesson: If you want people to know what you look like drop it off in person but DO NOT put your picture on your resume.
5) Two words: Social Networks
I'm sure you all got an email last week about the girl who posted something negative about her job and her boss on facebook only to be fired on facebook as he was one of her friends. While it seems silly and that it may be your personal life, newsflash it's ONLINE!!!!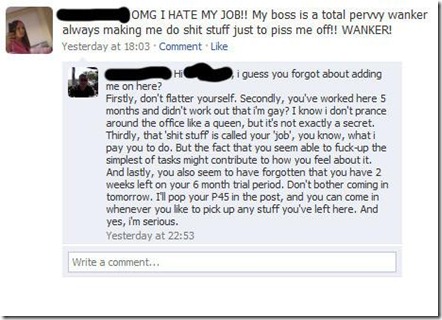 More and more hiring managers will go to facebook to check someone out before they call them in for an interview. what is your profile picture, what does it say about you as an employee? What type of information do you have available to the public, is it something you want employers to see?
I currently use Xobni for email management and guess what it pulls pictures from Linkedin and Facebook from all the applicants who apply for our jobs. So if your best profile picture is you getting drunk and looking like an idiot on your profile page, guess what, your potential employers will pass on you.
Lesson: Put a normal profile picture up.
And twitter. Oh twitter. I love twitter. But you tweeting at work about how dull your day is, and how much you hate your job it is grounds for dismissal. Not only does it reflect badly on you.. but future employers will wonder, why on earth they would hire you if all you do is bash your employer.
Lesson: be careful what you tweet.
Stay tuned for part two. In the meantime, always update your resume and be smart online. You never know who's looking you up.