My husband sent this to me.  I am not a skinny girl. I've had two kids.  And many moms (and non moms) feel horrible about their body because of the way media portrays what women should look like. Don't I just sound like a feminist!  But it's true. As a teenager we are bombarded by 'sexy' skinny girls in music videos, on T.V. and in magazines.  We've all seen the Dove commercial about accepting your body, and not being airbrushed.  Models generally don't look like they do in real life as they do on magazine covers as they shave inches off their small toned bodies and make them even thinner.  But yet we still want to look like the airbrushed version.  After all thin is in.
The stat they post in the article says that,
Twenty years ago the average fashion runway model weighed 8% less than the average woman, today she weighs 23% less.
Now, you might say, well twenty years ago the average woman weighed less than she does today, and you may be right, but look at this photo.  This is a runway model who is likely forced to be anorexic to keep her size, and a Russian model who is a US size 12.
You be the judge, who is more beautiful?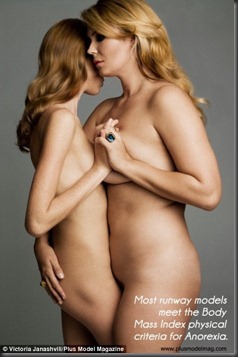 To me, the "plus" sized model looks healthier and sexier.
So why as women do we only celebrate being sexy when we are "thin?"  here is another photo from the article: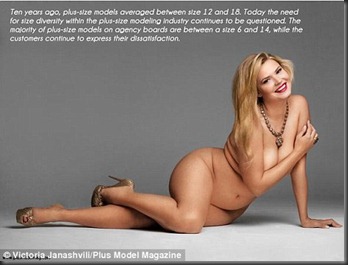 Many women are not between size 6-8, and there is a lot of controversy as to what qualifies as a plus sized model these days. However, if you are healthy as in; you exercise regularly and eat sensibly, you may not look like models on the covers of cosmo and the like, but it does not mean you are not sexy. —holy run on sentence batman!  There are people out there who say that Plus Sized models support women being obese but the model makes the point that the industry should not support anorexia or obesity, and that beauty comes in various sizes.
Many women struggle after giving birth with reclaiming their sexuality because quite frankly their bodies are DIFFERENT.  Not worse, just different. They may have stretch marks AKA battle scars, saggy boobs or leaky boobs, deflated stomachs, C section scars and the list goes on—wow I'm making post baby bodies sound delightful, aren't I? But keep in mind, we created another human being!  It's not like you sat around on the couch for 9 months eating bon bons.  And we have to get our minds around that this may be our new "sexy" body, you have to work with what you've got.  Guess what, your husbands (if they are not assholes) still find you beautiful, even if you do not. It is harder to get back in shape after having a child but it is not impossible, but you must make yourself a priority.
Remember ladies, beautiful women come in all sizes, celebrate the sexy you now! Sometimes, some new sexy lingerie helps 🙂 Just sayin'.