With social networks dominating our lives (especially in the last few years) it's no wonder that there has now become a place for babies to be friends with other babies! Check out the latest craze called TotSpot!
What is TotSpot?
According to their website, Totspot is:
"…a place for parents to publish a page about their kids and share with family and friends. It's part online babybook, parent journal, and social network. Childhood is an ongoing story and TotSpot is the first site that makes it super easy for parents to securely share their kid's story with friends and family."
What better place to boast about your favourite things in life: your children! The best part about this website is its commitment to privacy. Let's get a few things straight. You can only search for babies by knowing their username, first of last name, or email. It's not to be confused with facebook, where you can search for people you know and add them as friends. This site is designed specifically for Kids and their friends and families. So making a profile for your child, the child can add his "baby friends", and his "big people" friends, but "big people" cannot search each other, after all that's what facebook is for.
TotSpot is also designed specifically for kids! It allows you to add the following to your child's webpage! This allows you to invite aunt Salley or uncle Bob to view what's new and exciting in your child's life, no matter where they are in the world!
Growth charts
Firsts
Beautiful themes
Hi-Res photos
Favorites
Videos
One other thing that I think is neat and "facebook-like" is the fact that they have "status" updates (i.e. Little Suzie is taking a nap with mom!) and instead of "poking" someone you can "tickle" someone.
Let's get Started!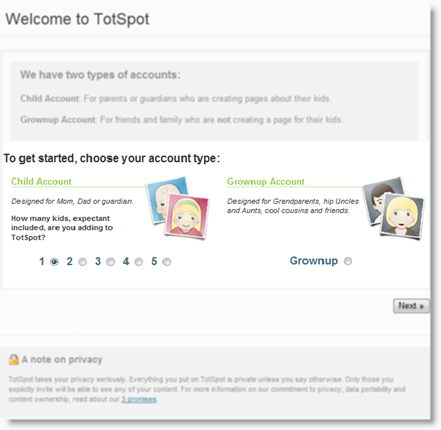 To get things started you need to create an account:
There are two types of accounts you can sign up for, the child's account (the parent or guardian would create your child's account) or the Grownup account (this is where grandma/grandpa or aunts/uncles create accounts so they can tickle them and look at their profile!)
Child Account
Depending on how many children you have (let's start with one) you would select the number on the left and hit next. Once you are past that stage, and fill in mandatory information (such as username, first/last name, and an email address that you'll need to verify the accounts authenticity).
The next step will be to create the first child's page. It asks things such as username, (this will identify your child, not you) first name, last name birth date and gender. For expectant moms, you can still register your babe, without a name, because you can use the username to hold your child's place on the site- also if you need to change the date of birth it allows you to do that on their profile as well as the gender. Hit create and you're well on your way to showing that cute little baby off to your friends and family!
Grownup Account
The Grown up account is similar; you need a username, name, birth date and email address (used for verification). You're well on your way to showing up as a grownup on your favourite baby's page!

Searching for the babies you know (if you didn't receive and invitation) requires you to know, their username, first and last name or email address, and even then, you need to be accepted by the "guardian" who set up the baby's profile in the first place.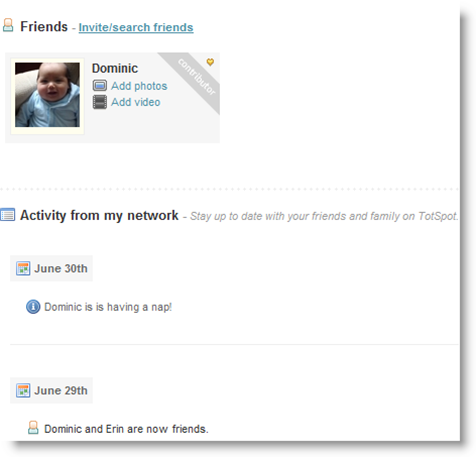 Your account (say you're grandma, or aunty) will show activity on your grandson/daughter, nephew/niece in the "activity from my network" part of your webspace.
It also allows you to see if you are a "contributor" to your favourite baby's page. You can contribute photo's and video's of your favourite baby!
Three Ways to Invite your favourite baby:

It's easy to build your TotSpot community. Invite your friends and family to participate. You can enter e-mail addresses directly, import an address book from Outlook, or import your contacts from any of the major web services: G-Mail, Yahoo, Flickr.
Your Child's Page! (This is the Fun Part!)
Your baby's biography is the heart and soul of this site! It brings together your child's profile with everything customizable in TotSpot like their status updates, their birth details, their photos and videos even certain milestones playfully named their "firsts."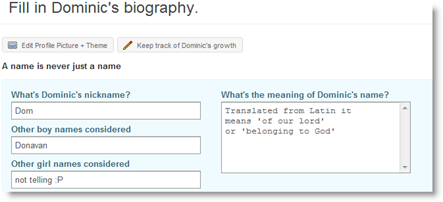 This is also where you edit their birth details (if you want too–but remember even 22 hours can fit in a single word, LONG). If you've made a mistake when you are signing up you can edit things here. If you were expecting and have since given birth this is the place where you can edit the name, gender and birth info in.
You can even input your child's eye colour and hair colour. Two of the features off of this page are the growth Chart, the Profile picture and Theme.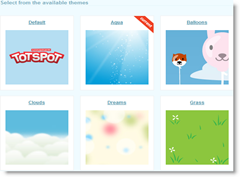 To edit your growth Chart, simply input the height and weight, and it will keep track of your baby's development! There are also a multitude of themes, so if your child likes blue or the outdoors there are specific ones that reflect their favourite themes!
The Dashboard
The Dashboard is the "home page" of your child's profile. It allows you to see if anyone has sent a "tickle" to your child, or uploaded photos, video's and sent a message to be posted on his "dashboard" (much like the Facebook 'wall.')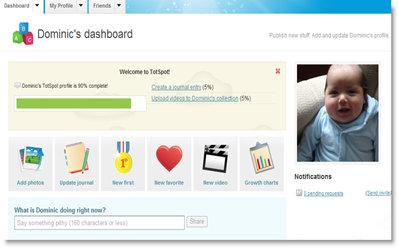 Here is where it will tell you how much you've completed of your Child's profile. At first there will be quite a few things that you can add (and it's so nice, it points it out for you to just click away and it appropriates it to the right spot!) So if you want to add certain things like "favourite drink" all you have to do is fill in the blank and on the display page to others it says, "Dominic's favourite drink is Milk." There are also other pages that tell you about their milestones, or "firsts" and they even have a list to choose from! So for all of you mom's who may not have time to fill in the baby book, or locate your baby book, (I never bought one to begin with) This creates and easy, hassle free way to keep records of when your child hits wonderful milestones like sleeping through the night–that's my personal favourite! This is also where you can update your Child's "Status."
You'll also be able to see how many people have viewed your child's page as well as any activity that has happened on your child's page. (i.e. someone comments on a picture you have posted) If any of your children's friends update their pages, it shows up on this page as well!.
The Friend Page
The Friend page is simply, just that, where you can see your baby's friends. (I've blanked out my babe's friends for privacy reasons) It also updates you on your babe's friends status updates as well as telling you how old they are!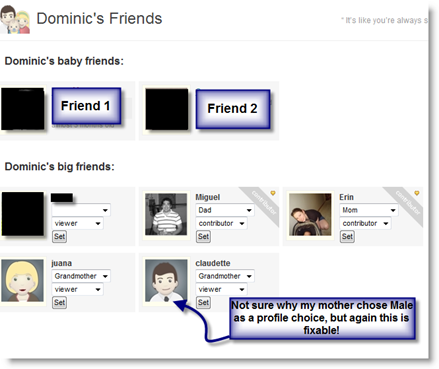 It also allows you to see the "big" friends. So these are the grown-up accounts for friends and family such as grandmas and parents of other babies. Their profiles aren't clickable (you'll soon learn that I like everything to be clickable), and at first I was disappointed, but my husband reminded me that this site is for our babies, to show them off, not to chat about like a message board or grown up social network. (like Facebook)
The Bottom Line
TotSpot is a neat and private place where you can share details about your little one(s) with friends and family. It's a great way for your family members to be included in milestone moments and to check out new videos and photos. It's very user friendly so give it a whirl and make a profile for your child go to TotSpot. Remember it's like any other Social Networking tool, you choose who you add to your child's profile, so if you do not know them, please do not add them!