I've been getting a lot of questions about the 3 day refresh so I thought I'd answer a few below with my 3 Day Refresh FAQ! Below are the most common questions I get emailed or asked on facebook. If you have any other questions, please feel free to reach out to me! Oh and of course I have the 3 Day Refresh Meal Plan for you.
BREAKING NEWS: Did you hear? We will be launching in the UK
How much weight will I lose on the 3-Day Refresh?
Most people lose between 3-5lbs in three days. But there are people who lose up to 8lbs. It all depends on how much weight you have to lose, and how bad your diet was before the cleanse.
Can I eat while on the 3-Day Refresh?
Yes! You will get 3 shakes, 1 fiber drink, 6 healthy snacks and 1 dinner recipe each day. And it's all real food! There is a LOT to choose from so you won't be eating the same thing everyday–unless you want to.
What is the estimated daily calorie intake while on the 3-Day Refresh?
The calories are approximately 900 calories per day. It depends on what you choose and how closely you follow the guide.
Will I be spending my day in the bathroom?
No! The Fiber Sweep is gentle and will not have you racing to the bathroom in cold sweat!
Is the 3-Day Refresh Vegetarian or Vegan?
Yes is it! To make it Vegan, be sure to use Vegan Shakeology. SO Carnivores… you will be going three days without meat… YOU CAN DO IT! Who says you don't make friends with salad.
Is the 3-Day Refresh Gluten Free?
No, there is Oat Protein and it is not certified Gluten Free.
This one is really up to you.  For me, I know I indulge more on my nutrition during the weekend so I chose to start on a Monday. But what you should do is choose three days that will work best for you and your schedule. You want to be able to stick with the program. Some people start on Friday so that they end on Sunday and can focus over the weekend. Choose the 3-day period that's best for you!
Can I exercise while doing the 3-Day Refresh?
Yes you can totally exercise during the 3 day refresh!  The program suggests moderate to light exercise, I personally could still go for a run. BUT I wouldn't recommend doing an hour long session of P90X, or Insanity.  Keep in mind that even though you may be able to do a harder program, your body is working to clean your system. So, it is recommended that you not overdo  it with a strenuous program.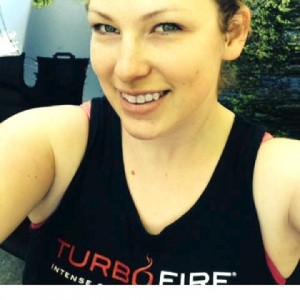 How often can I do the 3-Day Refresh?
It is at your discretion, it is safe enough to do once a month, but designed to be done once a quarter. You can do the program as a kick-start your weight loss. But think about it, you can lose between 3-5 lbs with the program. So, if you do it monthly, you could lose over 30-50 lbs in a year.
Is Shakeology required to do the program?
Yes you need to get Shakeology. Shakeology is part of your breakfast each day. It is recommended you get the Vegan formulas but it's not mandatory.  You can still use the whey formula if you're not into vegan.
Is coffee allowed on the program?
If you can ditch the coffee for three days, that's going to help you get better results, but if you must have it, you can't milk/cream, sugar or anything else unnatural, You can add stevia if you need it sweeter. If you are going through severe caffeine withdrawal, using green tea or Yerba Mate is a great option!  My favourite green tea is an organic jasmine sencha green tea, or a fun one from David's tea called Kiwi's big adventure. I'd highly suggest you ditch the coffee because it makes your body more acidic.
Can you do the 3-Day Refresh while pregnant or breastfeeding?
I always advise people to check with their doctors when I get asked questions like this, because I'm not a medical professional. I am however a nursing mom, my little one is 10 months old, and I did not notice a drop in supply when on the cleanse. It's generally not recommended because of the low amount of calories you are consuming, but when I needed it, I added an extra vegetable and healthy fat, and still get awesome results. I'd recommend you drink a LOT of water.  But in terms of the supplements like shakeology, the fiber sweep and the Vanilla Fresh protein shake, there are no concerns there for breastfeeding moms.
I'm In, Let Me Try 3 Day Refresh with a 30 Day Money Back Guarantee
If you are ready to try the 3 Day Refresh, you can get it at the special discount price of $140, which is basically $10 more than just ordering Shakeology alone. Massive discount. It will sell out so if you want to try it, make sure you order quickly.
Order Three Day Refresh Plus The 30 Day Supply Of Shakeology Here-US
Order Three Day Refresh Plus The 30 Day Supply Of Shakeology Here– Canada