As a mom, sometimes we do things to make our children happy without so much as looking to see who is staring at us.
I do this often when I'm in the car.
My son's car seat is directly behind my seat in our car, so I can only look at him in the rear view mirror.  So sometimes when we're stopped at a light I look in the rear-view mirror and wave at him, or play peek-a-boo.
Now this is all fine for my son and I, but one day I looked back, beyond my son and saw the person stopped behind me looking at me like I had three heads. it occurred to me that he must have though I was waving at him and ducking my head in and out of view.
So now needless to say, I am a "little" more conscientious to see if there is someone behind me but honestly  i usually only remember to look after i've played the games lol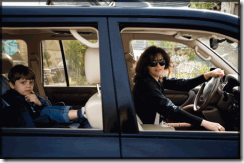 So if you see someone waving at you or doing something silly, don't assume they're freaks. they may have small kids in the car.