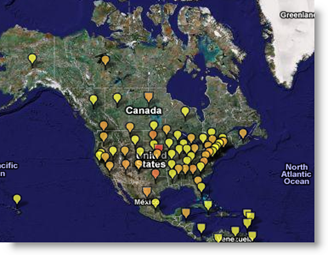 So with the never ending debate of should I vaccinate my children (that will be another posting at a later date) and why, I've come across this neat little tool that my husband sent to me.
Do you want to know the latest diseases that are being reported around the world, let alone in your backyard?  This this is the tool for you! Keep in mind this tool reports on the last 30 days of activity. And I don't know about your country's process for reporting disorders but making it an official case is often harder then reporting symptoms of the actual disease!
What is HealthMap?
According too their website:
"HealthMap brings together disparate data sources to achieve a unified and comprehensive view of the current global state of infectious diseases and their effect on human and animal health. This freely available Web site integrates outbreak data of varying reliability, ranging from news sources (such as Google News) to curated personal accounts (such as ProMED) to validated official alerts (such as World Health Organization). Through an automated text processing system, the data is aggregated by disease and displayed by location for user-friendly access to the original alert. HealthMap provides a jumping-off point for real-time information on emerging infectious diseases and has particular interest for public health officials and international travelers."
It was developed by Clark Freifeld (a Research Software Developer with the Children's Hospital Informatics Program), and John Brownstein, PhD (an Assistant Professor of Pediatrics at Harvard Medical School).
How do I use it?
Select what feed you want the tool to pull the information from. (I just have them all selected) and then select what diseases you are looking to find out information about.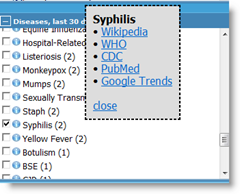 I was scrolling down the list of diseases to see what was being reported on, and one of the diseases that was listed was Syphilis! I admit I had no idea what it was, but I always thought it was a sexual disease of the past! So.. as it turns out there is a huge outbreak in Indiana!
If you want to learn more about the disease you can click the little

Information "i" and you'll see which sources you can get information from. (See to the Right)
Anyway's, once you do that you can click on the little bubble that shows you if it's a

outbreak or a

out break. So for the Syphilis, it's a localized problem in Indiana and in Alabama. Once you click on the bubble it lists the articles that have been released to the public in regards to these diseases. See the article below describing the outbreak. I was surprised at how many people had AIDS in such a small area. I knew it was a problem, but wow that's a lot of people!
"Health Department Investigating Syphilis Outbreak
By Devon Scott
6/25/2008
The Marion County Health Department is scrambling to figure out where an outbreak of syphilis came from.
Paul Babcock with the Health Department says there have been 60-70 new cases of syphilis in a downtown clinic just in the last few months. That's more than the total number of syphilis cases in 2007.
Babcock says it's important to get tested for that and HIV/AIDS. Wednesday is National HIV Testing Day. The health department is offering HIV tests at more than 20 sites across the area.
Babcock says more than 4600 people are living with HIV and AIDS in the area"
The bottom Line
So have fun with it, you can check on things around the world! But so far, because it's a new tool it has it's limitations. It's only pulling things that have been reported on in the news!  There are many diseases that do not get classified for a long time or accurately so this tool is only as good as the data it's given. It's still neat to check out things affecting our neighbouring countries! Eventually it will be more accurate once we have medical data that is linked around the world. But in the mean time enjoy obsessing about the diseases in your backyard!
Here's the link!