Welcome to Sunday's Kitchen Korner, this week it's Chocolate Chip Cookies. Ah, a Classic. I actually don't bake–not so much as don't but can't. What is it with me and following recipe's? I always like to deviate from the path, and with cooking you can do that, but not with baking! So anyone who has great baking recipes with pictures who wants to submit them along please feel free to email me at erincarrasco@gmail.com!
This weeks submission is again from Jerilyn Deschamps! Many thanks once again for this fantastic recipe! Yum, now I want cookies!
Chocolate Chip Cookies
What you'll need:
2/3 cup (125g) sugar
½ cup of butter
1 large egg
½ tsp baking soda
½ tsp salt
1 cup plus 2 tsp flour
1 tsp vanilla
3/4 cup semi sweet chocolate chips
What do I do next?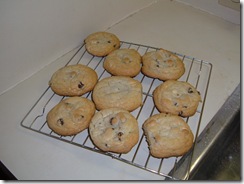 Preheat oven to 375
Cream butter with sugar to light and fluffy, add egg and vanilla and mix well.  Add baking soda, salt and flour and add chocolate chips. 
Place the cookie dough into the fridge for 30 minutes.  Drop by rounded large teaspoon onto a un greased cookie sheet.  Bake for 8 to 10 minutes until lightly brown. 
Put on cooling rack. Serve and Enjoy!
Jerilyn also notes that to make Chocolate Cookies "instead of chocolate chips, melt 4 squares of Baker's Semi Sweet chocolate and add it to the batter and mix well"
Stay tuned for next weeks, Sundried Tomato Pesto Tortellini! Until then, happy cooking!