Oh the Olympics. You know I must admit, I love watching our Country win.  Never have I felt more proud to be Canadian-aside from the opening ceremonies.
Here is a shot of the medal standings as of Feb 26 2010: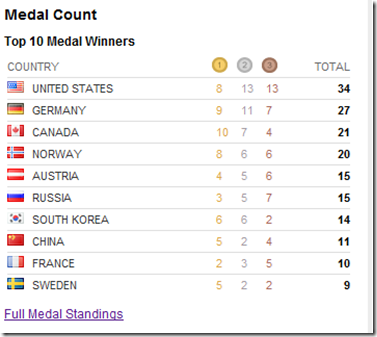 There has been a big controversy about Canada owning the podium, but honestly looking at the medals. we've got the most gold medals. Isn't that owning the podium?  And if that's not technical enough,the podiums were made in Canada, so we own them anyways!
I'm so excited to see Canada and the USA battle over hockey this Sunday!
As much as I love a lot of my American friends.If. and I mean if you beat us, we can't be friends anymore.
This is our sport.He shoots, he scores!!!!