Breaking up with a significant other is hard, breaking up with your boss when you quit can kind of feel the same.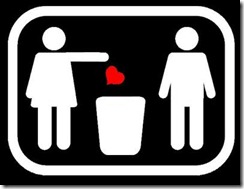 You know when you try to break up with someone you don't want to hurt them, lead them on or make them feel bad. At least not in healthy relationships. Recently I left my job at a company I helped start. In every sense of the word, it was a break up. I was breaking up with my boss.  But what I will do is state simply I left for a new opportunity that enables me to grow professionally. How does that sound for impersonal professional?
When I was preparing my "we need to talk" speech in my head, it reminded me much like breaking up with an old boyfriend. Some points I will mention:
I wanted to go somewhere public in case he had a melt down, that way if he yelled and freaked out, I'd be surrounded by

strangers

people.
I didn't tell him where I was going to, much like you never tell the ex, there is a new little somethin' somethin' or if you do, you don't say who.
I wanted to not make it an angry goodbye , or point out faults as to why I was leaving but said rather, it's not you it's me (remember personal growth right?)
And lastly, I packed up all of my things before I broke the news, in case I was subject to verbal abuse. Much like you get all of your stuff before you break the news to your soon to be ex-partner.
I am happy to report that it went better then expected. Kind of like, "No. No. Really? I'll give you more money." But at this point and most of my career at this company it wasn't about the money.  I have to say, I loved what I did as a recruiter.  I loved helping people find jobs that they wouldn't have had the chance to find other wise. But nothing can last forever. It was time for me to move on and make a change.
Some points to remember when leaving your job; especially if it's a small company. When you give notice, it's not the time to point out faults in the owner and the business, that is what an exit interview is for (if you get one.) Remember the things you've learned from the company, and from the job. Remember the person who hired you and who gave you an opportunity to grow with the company. And lastly remember that you should NEVER ever burn any bridges. Even if you never want to cross them again.