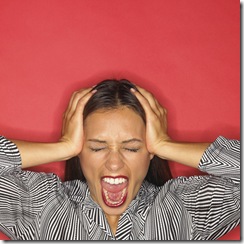 Since becoming a new mom, and having friends who have become moms, there are some things you just should not say to a mom (new or 3rd time around). Here are a few of the top offenders that really grit our teeth when you say them.. you know who you are *gives you the evil eye* now knock it off! Keep in mind these are real statements from real mom's.. including their comments!
My personal favourite is number 5. Babies cry, they fuss, it doesn't always have to do with what mommy ate.
**please note that children's names have been omitted and replaced with X, for privacy sake** Many thanks to the moms on BBC!
The Top 10 offenders!
1. "Your baby is still fresh"… I didn't know kids could be fresh?
2. "Is it a boy or a girl"… Would a girl be dressed fully in blue?
3. "Enjoy her now because wait until she's a teenager"… (I hate, hate, hate this expression!!!)
4. "Where does he get his length from" – (in context, it is when my husband and I are both with him)…want to say "my husbands business partner"
5.Oh he's fussy, what did mommy eat today— it couldn't be that he doesn't like the way you're holding him, you smell funny, he's sleepy or hungry.
6. "She's so little" Try lugging 15.5 lbs of baby plus a car seat…. She's not little.
7. Wow three boys???!!! I guess you weren't fortunate enough to get a girl!!!!!! (I really hate that.) People look at me with sympathy when they should be happy that I have 3 VERY healthy kids.
8. WOW he's a big baby for his age, he must get that from your side……(I'm a plus size lady…so THAT comment annoys me and surprisingly enough I hear it quite often from complete strangers!!!)
9. "You have a boy and a girl, you don't need anymore"….isn't that for me to decide?!?! But do you know what I hate more than what people say….it's when everyone feels the need to touch **X** ……he's not part of a petting zoo!!!!
10. "He is such a good baby…always so happy, I never see him cry"…that is because you see him for maybe an hour at a time…Trust me he cries!!!!! I also hate when people feel the need to touch **X** …especially when I don't know them!!!!
The bottom line
You know what the worst thing is, no one really knows that they are saying these things to offend new moms. I mean, when I was a non mom, I said a few of these things…
One of the worst offenders is when they see baby sucking on things, that baby must be hungry.. babies have something called a sucking reflex, if you put something in their mouth or near it, they'll suck.. it doesn't necessarily mean they're hungry especially if I just fed them! It's like if I hit your knee where you have a kick reflex and I hit that spot over and over again, and kept telling you, you must really want to play soccer because you're good at kicking ….