Mother's day for me has become more important but not for the reason you would think.
I finally realize what it means to be a mother.  And because of that, it makes me appreciate the celebration that is Mother's day.
So while Mother's day is important to me, it's more important to me that I celebrate my Mom and my MIL.  Because before I was a mom, it was just a day to buy something for mom, and a lunch or a dinner out.  Now it's a celebration of all the hard thankless work that they (our moms) put in for us.
Now don't get me wrong, if my husband forgets mother's day. Well like they said at Church today, "hell hath no fury like a woman scorned."
This mother's day I was worried that my husband would have forgotten, because he was away on business this whole week before.  So on Saturday he told me he had to go pick up my present.  Now keep in mind, he can't keep a secret so for him to plan something or buy me something significantly in advance almost never works. But this year, he totally surprised me.  Now to appreciate this you have to understand my love of technology and my inability to always carry my cell phone with me.
It really "grinds his gears" that I have a cell phone but that I leave it at home, that it's dead somewhere at the bottom of my purse or, by chance, that it's charged but I don't hear it and never answer it.  To top that off I've had this phone for 4 years, i'm not on a contract and I still pay 40-50$ per month for a phone I never use.
I had been talking about getting an iPhone for some time now, and he's offered to go to the mall on the weekend and look at phone but to be honest I never wanted to, I wasn't interested.  Plus the phone i have now is utter crap it needs a new battery and they don't even make it anymore. yes for how tech savvy I am.. my phone is seriously Zack Morris.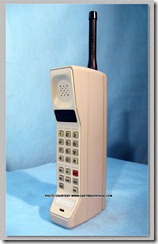 One day after yet another conversation about why I wasn't answering my phone, I told him why don't you just go get one for me. to which he replied no. So I thought end of story.
So while my husband came home from the mall with a small pretty purple bag, i thought Jewellery.. and he had my son pass me the bag and low and behold there was an iPhone in there!  I swear I was so surprised, and elated, it was the perfect gift! He even transferred my number for me!
And when I called Telus to cancel my phone, it took 5 minutes to get to the person to get someone from the senior team to cancel my phone. they kept telling me Telus has iPhones too, and what they weren't getting was my husband already got one for me and I was cancelling because I didn't need the phone. Funny thing is; my phone that i had just charged, died during the call to cancel the phone. do i need any other reason to not want my telus phone now? Nope.
So on another note; on a more genuine note, to the moms out there and the moms to be.  Someone sent me an email saying that, "motherhood is the hardest vocation" there is, and honestly it is.  But, the flipside of it, it's really an amazing journey and I'm only 2 years in.  I never expected the joys and the insecurities of being a mom. All the decisions that weigh on you, all of the things you do shape your kids, what you say, what you don't say. it's an amazing pressure, because you know that one day, your child will say. Mom, why…?
And to all of the moms out there who have lost their children, my heart breaks for you almost every single day.  Because no one deserves to lose a child.  I think of the mom who lost her child at the Toronto airport. going on vacation he was being "2" and wiggling out of his mom's arms and fell over the guardrail 15 ft below. I couldn't imagine the pain of losing grip, or watching him fall, and being helpless to stop it.  I think of that mom and little boy who didn't make it almost every day.  I also think of the little boy in Quebec who drowned in the river… who was missing for weeks until they found his body. I know there is peace in finding him but also despair. Because all that we do to protect our children, we cannot protect them from everything, and that scares the crap out of me. So to those moms, my heart breaks with you, I pray for you and your family that you can come to some normalcy. I know you will never forget or probably ever forgive the circumstance, but know you are not alone in your grief that all moms out there are there to support you.
To all new moms or moms to be, motherhood is hard but it's so incredibly worth it.  And if at this point in time you don't see it yet, I promise you will.  There is no automatic "click" for when you will get it, so if it hasn't come yet, it will I promise.  And for those who have already had the click.you are very fortunate.
So take the time with your children, enjoy how small your children are now, even when they're difficult.  In 20 years you'll wish you could go back, and hold them just a moment longer.
Happy Mother's day to all the moms, new or old, your work is not thankless, you shape a generation… may God bless you.