I'm a mom to a 3 young kids, two boys and a girl-which keeps me insane busy a lot of the time.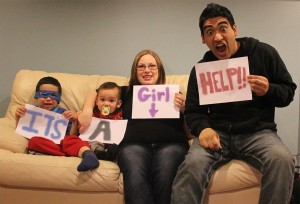 Besides being a mom, I'm also a Beachbody Coach.
My journey began with beachbody over 10 years ago before I got married. I had gained a lot of weight after moving out and getting engaged. A few months before getting married, I started a program called slim in 6 and lost 25 lbs before getting married this was the beginning of my beachbody love affair, but it's not just a simple story.
My fitness journey has had ups and downs over the past 15 years-like many women, having children, having a career, having a household and a marriage. It is so easy to lose yourself, when trying to balance it all, have it all, be it all, and do it all. Most of the time… we just don't make ourselves a priority anymore.  When I first started this journey, I really just wanted to get into shape after having my 3rd baby. And I did!  And just like everyone else life happened! I discovered I had uncontrolled hypothyroidism. So my weight fluctuated, and it was SUPER difficult to lose weight.   I also discovered my body's hormones were completely out of whack. It wasn't until I started to do more research into healing our body with food and natural things that I was stagnant in my fitness transformation.
We've had up and downs in our fitness journey BUT the difference was… I was surrounded by amazing women. We accepted where we were at, and decided to keep going.  I call myself an accidental entrepreneur because, I only wanted  to lose weight when I signed up and yet I ended up creating a tribe of amazing women who have created financial stability and gotten in the best shape of their lives. Not only that, but i've found some of the most soul quenching friendships I never would have if I hadn't become a coach.  Because I fell in love with being the best version of myself that I could be, and other women around me wanted to do the same, we created an amazing empire of women empowering women.
This is my latest transformation from earlier this year, and if I can do it? Why can't you?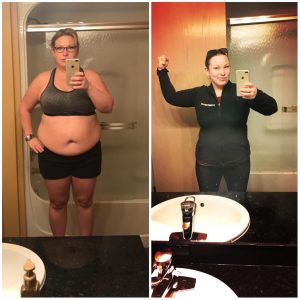 Think you have what it takes to join the BEST team in Canada?! Just fill out this form and we will chat and figure out if you are the right fit for our team!
Join the team!
My goal is to help moms to not only just put on their bathing suit but enable to see how uniquely beautiful they truly are. It's not about being a certain size-it's about owning who you are, and re-learning that YOU are beautiful. <3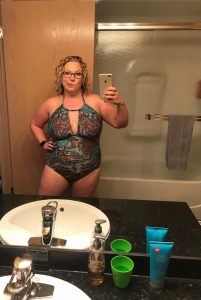 Disclaimer: All material on this website is provided for educational purposes only, although every effort is made to provide accurate and up-to-date information. Erin Carrasco is an independent Team Beachbody Coach. Unless otherwise noted, the articles at this website are not written by doctors or other health care professionals. If you are concerned about your health, or that of your child, consult with your health care provider regarding the advisability of any opinions or recommendations with respect to your individual situation.
Beachbody does not guarantee any level of success or income from the Team Beachbody Coach Opportunity. Each Team Beachbody Coach income depends on his or her own efforts, diligence and skill. See our Statement of Independent Coach Earnings located on the Coaches Corner on TeamBeachbody.com for the most recent information on our Coaches' actual incomes.